ESL One New York 2016 Final Day

Natus Vincere beat Virtus Pro in the final of ESL One New York to take home the top prize.
After three days of some brilliant CS:GO action, the final was won by Natus Vincere who didn't lose a single match en route to the final. They overcome Virtus Pro in what was an extremely close match with each side picking up a game before being forced into overtime. Na'Vi beat Team Liquid in the semi-finals whilst VP put in a good performance against ESL Cologne winners, SK Gaming, to secure their place.
Natus Vincere 2-1 Team Liquid
Cobblestone
The first semi-final of the day started on Cobblestone with Team Liquid starting on CT side. If Na'Vi's form so far was anything to go by, you'd think they would have started well, but Team Liquid stormed into the lead picking up the opening 7 rounds. Na'Vi were able to pick up some rounds to give them a chance but Team Liquid had full advantage going into half time 11-4 up.
The second half opened up with Team Liquid continuing their dominance and picking up the first 3 rounds. Na'Vi weren't going to give up easily though and put some rounds on the board taking it to 14-7. They left themselves with too much to do and Team Liquid closed out the first game 16-7.
Train
It was on to Train for the next map with Na'Vi, on T side, winning the pistol round. They went on to lead 3-0 before Team Liquid reproduced some of the first game dominance and picked up 6 rounds. Na'Vi replied with 5 rounds in a row of their own and closed out the first half 8-7.
Na'Vi opened up the second half with a flawless pistol round, not losing a single player. This set them up well to take a nice advantage and they strung some rounds together to lead 12-7. Team Liquid came back strong and the score went to 13-11. The next round saw a stand off between the two sides with Na'Vi losing two players first, but they miraculously recovered straight away and won the round with 5 against 3. The rounds went back and forth until Na'Vi eventually closed out the first match 16-13.
Dust 2
Na'Vi started on CT side winning the first 6 rounds with a nice jump scope from Oleksandr 'S1mple' Kostyliev on round 5.  Simple carried on the style with a ridiculous move where he threw his sniper as a distraction almost when he was one on one against Nitr0. Na'Vi closed out the half comfortably and took a healthy 13-2 lead.
Na'Vi carried on as they left off in the first half and won the pistol round. Team Liquid recovered well to win the next round. With the score at 15-4, Team Liquid showed just what they are capable of, picking up a flawless round whilst eliminating the enemy players within a ten second window. They then won the next 5 rounds to put pressure on Na'Vi but it wasn't enough. Na'Vi closed the game out 16-10 and secured the first spot in the final.
SK Gaming 1-2 Virtus Pro
Mirage
This was set to be a brilliant semi-final with VP coming off the back of their Dreamhack Bucharest win and SK Gaming winning ESL Cologne a few months previously. It started out on Mirage with SK on the CT side, taking the pistol round after a nice clutch from Lincoln 'fnx' Lau. This set SK up nicely to take the next 3 rounds after VP had spent money on subs and pistol upgrades in the 3rd round. SK led most of the first half but VP were able to control the economy better and went into the break 8-7 up.
The second half started with VP winning the pistol round this time. From then on, the score advantage swapped between the two teams. Neither team giving the other more than a 3-round advantage to work with. The score ended 15-15 taking the game to overtime. SK prevailed after winning the overtime rounds 4-1 and bringing the final score to 19-16
Overpass
It was on to Overpass for the next game and it was SK on T side who took the first pistol round. From here, they marched on to take the next 6 rounds before VP responded. The score stood at 6-3 when Filip 'Neo' Kubski pulled off a nice knife kill in the smoke and then led VP to another round. It was a brilliant comeback from VP who took the first half 8-7.
After the switch VP carried on their dominance taking the score to 11-7 before SK responded. Gabriel 'Fallen' Toledo  pulled off a ridiculous clutch on round 21, firstly, no scoping 'Biyali' then defusing the bomb and killing 'pasha'. SK took the lead 15-12 before VP brought the score back level and forced overtime yet again. SK gained the advantage again 18-15 but VP were not going to let this game slip. They drew 18-18 with the teams proving inseparable once again, but it was VP who came out on top. After going level again at 21-21, VP surged ahead and took the game winning 25-21 in the end.
Nuke
After two brilliant and extremely close games, the deciding game opened up on Nuke. Virtus Pro took the pistol round after Wiktor 'TaZ' Wojtas picked up 3 kills. Then went on to gain a 5-0 advantage before SK started to pick up some rounds of their own. Epitacio 'TACO' Pessoa had a brilliant round 14, wiping out 4 VP players who just weren't expecting it and then defusing the bomb. It was VP who won the first half and led 9-6 going into the switch.
VP closed out the pistol round with the win and continued to pick up rounds. SK could only muster one round in the second half, struggling to find any rhythm. VP went on to win the second half without too much trouble and took the game 16-7. This put VP into the Grand Final where they would face Natus Vincere.
Natus Vincere 2-1 Virtus Pro
Cobblestone
The match started on VP's pick, Cobblestone, where they were able to pick up the pistol round thanks to 4 kills from Pawel 'Byali' Bieliński. From here, VP went on to pick up the next 6 rounds before Na'Vi could respond with one of their own. Then, during the 8th round, Janusz 'Snax' Pogorzelski pulled off an outrageous 1v3 clutch including a no scope which did no favours for Na'Vi's economy. The half ended with VP holding a brilliant 13-2 advantage.
The opening to the second half was just ridiculous, Snax pulled off one of the best pistol round clutches I have ever seen. It was a 1v4 situation and Snax stayed calm and scored head shot after head shot. Na'Vi responded well picking up the next round but after another clutch from Wiktor 'TaZ' Wojtas in the 18th round, it was pretty much over. VP closed out the game 16-4 and went into the second game with confidence sky high.
Train
Na'Vi really needed to get into this game after a poor showing on the first map. They started Train on T side and oh boy did they come out strong. They won the first 3 rounds before VP were able to get 1 back but it didn't stop Na'Vi this time. They gained a huge 10-1 advantage and looked strong with VP not being able to defend the bombsites. VP did pick up a couple of rounds but Na'Vi were excellent and closed off this half 12-3.
Na'Vi opened up the second half with a pistol round win. Then it was VP's turn to put the pressure on as they secured the next 5 out of 6 rounds, bringing the score to 14-8. S1mple picked up a brilliant round 20 3v1 clutch during the action. Na'Vi were able to close out the game and beat VP 16-8.
Mirage
The deciding game was on Mirage with each teams dominating a game so far. This game was so evenly matched, other than the initial advantage, the teams were never more than 2 rounds apart. Na'Vi started the better of the two teams on T side, winning the first 3 rounds. VP were straight back into it though and the two teams were exchanging rounds between them. It was VP who took the early advantage and lead at the break 8-7.
Na'Vi picked up the pistol round after the switch and they didn't stop there. They went ahead and stormed into the lead picking up 7 rounds in a row which left VP with everything to play for. VP fought back excellently and drew level with Na'Vi at 14-14. It was Na'Vi who had the match point though, leading 15-14 and they nearly took it. Ioann "Edward" Sukhariev nearly pulled off a 1v3 clutch to secure the match but Jarosław "pashaBiceps" Jarząbkowski was there to stop him. The game ended 15-15 and was forced into overtime.
VP gained the early advantage, going 1 round in front 17-16. Na'Vi fought their way back into it and took the next 2 rounds to give themselves match point. VP went for the bomb plant and forced Na'Vi to take action and they did just that. Ladislav 'GuardiaN' Kovács defused the bomb whilst Denis 'seized' Kostin provided the support with a triple kill to win the final.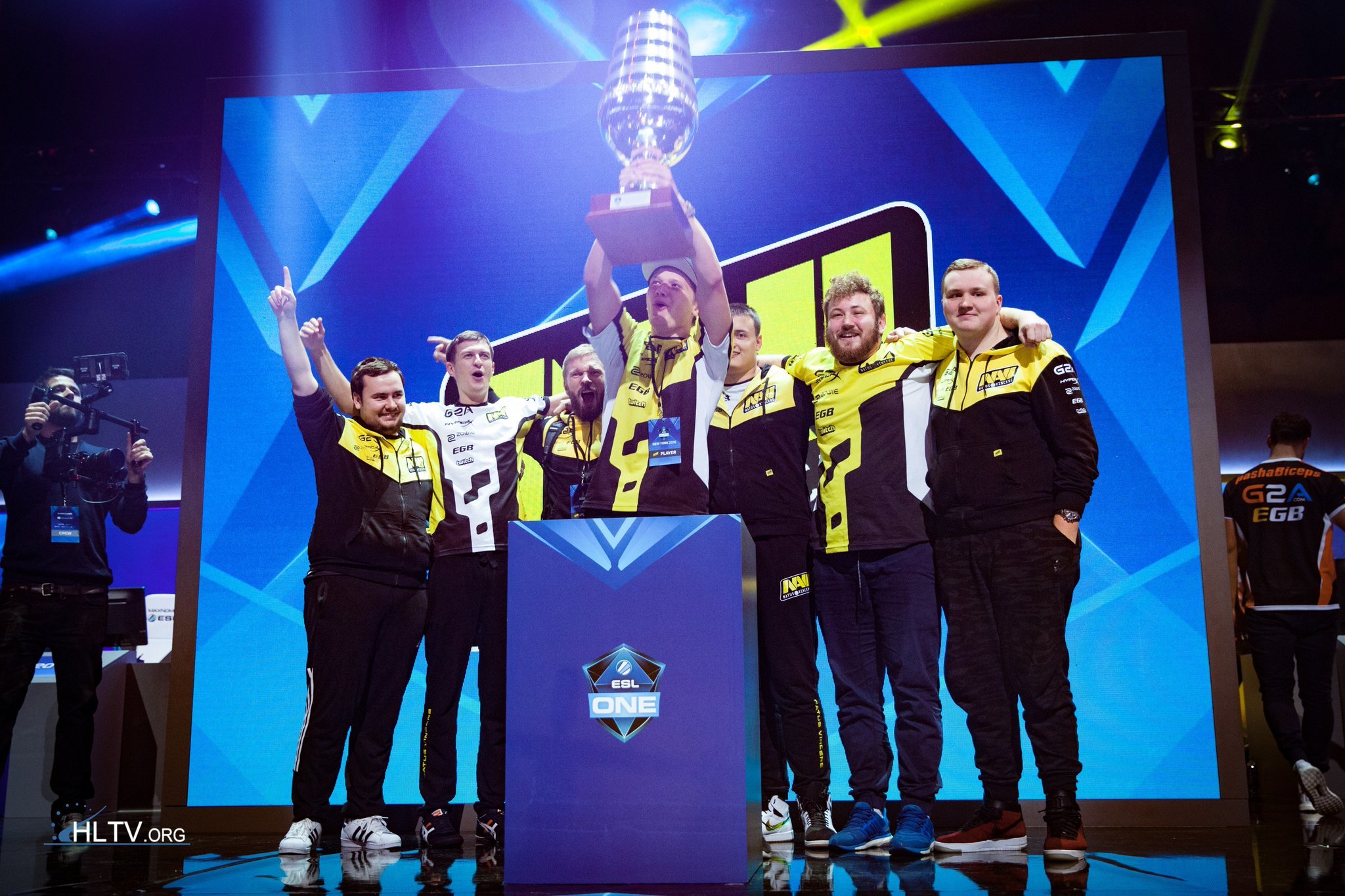 Big congratulations go to Natus Vincere who win the ELS One New York 2016 and pick up the $125,000 top prize. It was a brilliant tournament with plenty of clutches, overtime games and excellent plays but it was Na'Vi who proved to be strongest. Let us know in the comments below what you thought of this ESL One tournament.
Love all things Hearthstone, Overwatch and CS:GO. Chelsea FC fan. You'll usually find me on a PC, mobile or Xbox.